Profile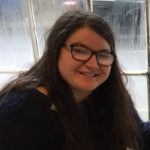 Maggi Laurie
Curriculum Vitae
Education:

Laurieknowe Primary (1998-2005); Dumfries Academy (2005-2011); University of Glasgow (2011-2016); University of Edinburgh (2016-2020)

Qualifications:

Undergraduate degree in Psychology, Masters degree in Research Methods in Psychology

Work History:

Several care homes for adults with learning disabilities, and schools for children with learning disabilities.

Current Job:

PhD Student (training for become an academic doctor!)

Employer:
Favourite thing to do in my job: Trying to make sense of the information & data I have collected. I particularly like making colourful graphs!

About Me: My favourite things are cats, science, books and hiking.

Read more

I'm originally from Dumfries (in Scotland) but moved to Glasgow 6 years ago to study at university, and I've stayed there since. My favourite thing about Glasgow are the chips, the parks, and of course, the lovely weather! I would love to have my own cat but we can't get a pet in the place I'm staying in right now, but I do like to visit the cat cafe in Edinburgh to get my feline fix. I spend most of my working week on buses/trains and in schools, and my weekends away up in the Scottish mountains.

My Work: I'm researching whether technology influences how children with autism interact with other people

Read more

Technology is now a huge part of almost everyone's daily life, and when used correctly, can be very helpful. For example, using google maps to find your way around a new city, and using social media to keep in touch with distant friends. Mums and dads can be worried about young people using technology, because technologies like the ones we have today weren't around when they were younger.

One worry is that technology can 'cut people off' from the real world – but for children with autism, the real world can be so overwhelming that technology may help them make sense of this world around them, and it may be easier to children with autism to interact with other people using technology. For example, face to face interaction might make children with autism uncomfortable, so they may choose to keep in touch with friends via text message or on the phone.

My research is looking at whether technologies help children with autism have more successful interactions with other people (other children, or adults such as parents). To do this, I will be looking at dyads (pairs of people – either child-child or child-adult) and comparing the number of interactions in these dyads 1) when they are using technology (e.g. playing an iPad game together) and 2) when they are not using technology (e.g. playing a board game).

My Typical Day: Bus to work, read some textbooks, visit a school & have lots of meetings, bus home.

Read more

I'm still working towards my doctorate, and in the early stages of that, so at the moment my day is mostly filled with reading journal articles & textbooks. I'm currently reading lots about the early development of autism – from birth and very young babies until about 3 years old when a doctor can recognise if a child is autistic. I try to read a few papers a day to keep my mind fresh & my brain up to date with the research.

Another thing in my usual day is a meeting – either with my boss to update her on the work I've done this week, or with a school to arrange a time to meet the kids. I'm working with special schools, specifically for children with autism and learning disabilities, so there's lots of paperwork to do before I'm allowed to visit. I'm working on a 'protocol' for my studies – which is essentially a checklist and set of instructions on what I'm going to do. It has to be very specific and detailed so that the schools know exactly what I'm going to do, and so that parents and children can decide if they want to be involved in my research.

And if there's any time left after that, I'll spend time either analysing some data I collected a few months ago (it's a long, slow process), or working on a paper that I am writing about autism and vision. And finally, I'll probably hop on a bus and head home – I spend this time either catching up with emails or listening to audiobooks.

What I'd do with the prize money: Hold a 'tech club' during the summer holidays at a school for children with disabilities

Read more

One of my research goals is to host a technology club during a school holiday for children with disabilities. Not only would this give the opportunity for the children to experience new technologies, it would give structure to their holidays and let the parents take a short break.

I would use some of the money to buy extra apps for tablets and iPads and keep them up to date. I would also buy some Google Cardboard (virtual reality headsets that work with smart phones) and let the kids try these out – they probably won't have tried anything like that before!

I hope that the club would run maybe an afternoon or a day a week during a school holiday, and would allow some of the pupils who like using technology to come try some new technologies out, hang out with their friends from school, and generally have some fun.

My Interview

How would you describe yourself in 3 words?

Scottish, funny, bold.

What or who inspired you to follow your career?

I'm not really sure – I don't really have a role model. I just really like the process of creating and answering questions.

Were you ever in trouble at school?

Very rarely!

If you weren't doing this job, what would you choose instead?

Again, I'm not too sure! Probably training to be a therapist.

Who is your favourite singer or band?

Alkaline Trio or Green Day

What's your favourite food?

Pizza

What is the most fun thing you've done?

I just came back from San Francisco where I cycled across the Golden Gate bridge – that was fun!

If you had 3 wishes for yourself what would they be? - be honest!

I would like a kitten, another kitten, and a puppy!

Tell us a joke.

How do you make a Kleenex dance? Put a little boogie in it!
---
---