Profile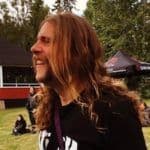 Ben Kenward
Curriculum Vitae
Education:

Oxford University

Qualifications:

Degrees in biology and animal psychology

Work History:

Oxford University and Uppsala University in Sweden

Current Job:

Lecturer

Employer:

Oxford Brookes University
Favourite thing to do in my job: Thinking about deep questions like "Why get out of bed in the morning?", "Should I be nice?", and "What is love?"

About Me: Psychology researcher and teacher, gamer, parent, fiddle player.

Read more

I spend half my spare time playing the fiddle in pubs and the other half playing computer games with my kids or watching trashy TV with my wife. I eat more sweets than my kids, which they don't think is fair. I'm claiming I'm allowed a lot because I also run so many miles (which is true) but they aren't convinced.

My Work: Trying to understand why people are mean or kind, and teaching students about that.

Read more

I've studied all kinds of things, from animal behaviour to the human sense of right and wrong. At the moment I'm trying to find out why even children often think people who do bad things should be punished. It's an important question because punishment probably creates as many problems as it solves, but people seem to be pretty in favour of it.

My Typical Day: The only thing I do pretty much every day is send and receive far too many emails!

Read more

Other common things are teaching students about experiments, getting experiments ready, writing about experiments, and reading about other people's experiments. If I'm really lucky I might actually do an experiment but it's mainly my students who get to do that at the moment!

What I'd do with the prize money: Spend it on going to schools to help the kids do cool psychology experiments.

Read more

I do this anyway, because I think it's only fair that when I do experiments on children, they get to learn about psychology too. But this way, I could actually cover the cost of me doing this, which would make me (and my boss) happy!

My Interview

How would you describe yourself in 3 words?

Lucky. Optimistic. Curious.

What or who inspired you to follow your career?

My parents, and also the idea that science can really help people.

Were you ever in trouble at school?

Not often, but when I was I made sure it was worth it (like sneaking out to buy sweets when I wasn't supposed to!)

If you weren't doing this job, what would you choose instead?

A musician.

Who is your favourite singer or band?

Post War Glamour Girls. The next big thing in rock – you heard it here first.

What's your favourite food?

Something with cheese, garlic, or seafood, or how about all three at once?

What is the most fun thing you've done?

Every time I've camped on a beach with friends it has been amazing fun for all kinds of reasons.

If you had 3 wishes for yourself what would they be? - be honest!

Be the best guitar player ever (can't play at all yet). Live forever (or at least until I'd seen enough). Visit another planet that has aliens.

Tell us a joke.

Why can't you hear a psychologist go to the toilet? Because the "P" is silent.
---
---